Notre Dame Football Tickets
Notre Dame Fighting Irish Football tickets are on sale now and is always one of the biggest hits with college football fans. The Fighting Irish have remained among the most popular teams in NCAA football, and always have great games throughout the season.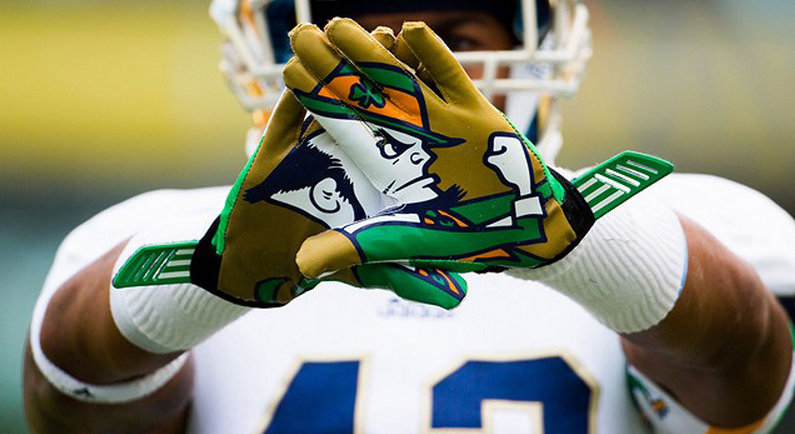 Be there October 1st, 2016, as Metlife Stadium will host Notre Dame Fighting Irish vs. Syracuse Orange, and it's sure to be one of the hottest games of the year. Don't miss out on all the hard hitting action at Metlife Stadium, and get tickets to see Syracuse vs. Notre Dame while we still have great seats available!
Tickets are moving quick for this game, so get yours while we still have a great selection of seats available!
All Events by Date
Change your location to see events near you
Date/Time

Event
Venue/City

Sep 4, 2016


Sun TBA

PARKING: Texas Longhorns vs. Notre Dame Fighting Irish
Sep 4, 2016


Sun 6:30PM

Texas Longhorns vs. Notre Dame Fighting Irish

From $35

Sep 9, 2016


Fri TBA

2016 Notre Dame Fighting Irish Football Season Tickets Package (Includes Tickets to All Regular Season Home Games)
Sep 10, 2016


Sat TBA

PARKING: Notre Dame Fighting Irish vs. Nevada Wolf Pack
Sep 10, 2016


Sat 3:30PM

Notre Dame Fighting Irish vs. Nevada Wolf Pack

From $280

Sep 17, 2016


Sat TBA

PARKING: Notre Dame Fighting Irish vs. Michigan State Spartans
Sep 17, 2016


Sat 7:30PM

Notre Dame Fighting Irish vs. Michigan State Spartans

From $431

Sep 24, 2016


Sat TBA

PARKING: Notre Dame Fighting Irish vs. Duke Blue Devils
Sep 24, 2016


Sat 3:30PM

Notre Dame Fighting Irish vs. Duke Blue Devils

From $265

Oct 1, 2016


Sat TBA

Notre Dame Fighting Irish vs. Syracuse Orange

From $94

Oct 8, 2016


Sat TBA

PARKING: North Carolina State Wolfpack vs. Notre Dame Fighting Irish
Oct 8, 2016


Sat TBA

North Carolina State Wolfpack vs. Notre Dame Fighting Irish

From $345

Oct 15, 2016


Sat TBA

PARKING: Notre Dame Fighting Irish vs. Stanford Cardinal
Oct 15, 2016


Sat 7:30PM

Notre Dame Fighting Irish vs. Stanford Cardinal

From $359

Oct 29, 2016


Sat TBA

PARKING: Notre Dame Fighting Irish vs. Miami Hurricanes
Oct 29, 2016


Sat 3:30PM

Notre Dame Fighting Irish vs. Miami Hurricanes

From $431

Nov 5, 2016


Sat TBA

PARKING: Notre Dame Fighting Irish vs. Navy Midshipmen
Nov 5, 2016


Sat 11:30AM

Notre Dame Fighting Irish vs. Navy Midshipmen

From $77

Nov 12, 2016


Sat 2:30PM

Notre Dame Fighting Irish vs. Army West Point Black Knights

From $185

Nov 19, 2016


Sat TBA

PARKING: Notre Dame Fighting Irish vs. Virginia Tech Hokies
Nov 19, 2016


Sat 3:30PM

Notre Dame Fighting Irish vs. Virginia Tech Hokies

From $251

Nov 26, 2016


Sat TBA

USC Trojans vs. Notre Dame Fighting Irish

From $284

SHOPPER REVIEWS
Bucket List Events